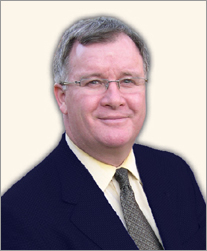 Charlie Reid P. Eng is the founder and president of Charlie Reid & Associates Strategic Manufacturing Solutions Inc. He has 25 years of manufacturing experience including line executive roles in industry, consulting, and corporate finance. He sits on several Boards, both public and private.
Prior to launching his own firm, Charlie was a Partner at Ernst & Young. There he led the Manufacturing Consulting Group and was National Director of the Automotive Industry Practice for all disciplines of the firm. Charlie was considered one the firm's top Lean Manufacturing practitioners world wide.
In addition to his technical depth and breadth in virtually all forms of manufacturing, he is a recognized authority on the Canadian Automotive Parts industry sector.
Charlie holds an engineering degree in metallurgy from the University of Western Ontario.


Experience Summary
Started independent practice in 2001


8 years as Partner in Ernst & Young, leader of the Manufacturing Consulting Group, and National Director Automotive Industry team – all in the Mid Market Entrepreneurial Consulting group


2 years as Vice President Manufacturing and Engineering for a medium sized automotive diecasting company


5 years as an Operations Management Consultant with Ernst & Young's mid market consulting group South-western Ontario


3 years in international procurement, production management, process engineering, and standard costing with Rockwell International


4 years as a steelmaking metallurgist in quality management, process control and optimization, technology deployment, and R&D roles at Stelco


Degree in metallurgical engineering at the University of Western Ontario, 1980